FREE DOWNLOAD


http://www.rmdsoftware.com/painrift/
download from website


Developed independently by RMD Software, Pain Rift for Quake2 is the unofficial sequel to PainKeep for Quake.
Pain Rift is the extension of Quake2 Deathmatch that you have been waiting for. Complete with new weapons and levels, this mod gives you everything you like about Q2 DM while offering a whole new range of tactics and environments to explore.
With levels from such acclaimed authors as Yooshin Yang and Doug Magee, code from the guys who brought you the first transparent water effects for Classic Quake, and a weapon range that includes the return of the Airfist and Grappling Hook, as well as a destructive collection of new weapons, you will be glad you took the time to check out Pain Rift.

FlameBurst blaster fire with explosive finish

Maelstrom tear your foes a new one, with this lightning style gun

AirFist painless Rocket Jumps, or use this baby to smear your friends against the wallpaper

MLR red laser fire for cutting folks in half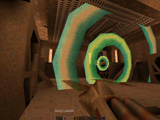 Stardust Grenade the mother of all grenades, full nuclear capabilities

AirFist Grenade why jump on a live grenade when you can use the airfist grenade and float upwards, watch out for the roof

Seeker Grenade a hovering , motion sensitive , kiss of death. Leave this one lying around to deter your enemies

Proximity Sensor drop this grenade on the floor, and wait for someone to trip over it

Flash Grenade blinded by the light...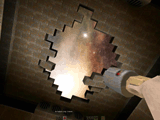 Flare Grenade great for lighting up those dark corners

Bouncing Betty the flip/flop grenade that keeps on giving

Drug Grenade excellent at parties, victims may get wobbly and fire blaster randomly

Item Overclock your vision may be warped, but your weapons will pack an extra punch